Mansfield Music Testimonials
---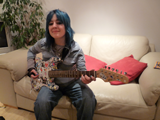 Dale has been teaching me piano for some time now. The lessons are an easy and enjoyable way to learn to play and read music with easy-to-follow books to help you progress at entirely your own pace. Beth my daughter has been learning guitar and bass which she  thoroughly enjoys, enabling her to get a good grade in her GCSE music exam.
SUE AND BETH GODFREY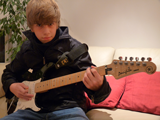 I have been having guitar lessons with Dale for two years and really enjoy his lessons. Dale has taught me to play songs confidently. He is a good teacher and is a really cool guy.
JOE HOWE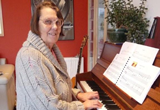 All my life I have wanted to play the piano. Now that I have retired, I can realise my dream. I came to Dale six months ago not being able to play a note. Now I am reading music and can play some songs. I find it keeps my brain active and my fingers supple and always look forward to progressing each week. Dale is a very fastidious and competent teacher and the atmosphere is always relaxed. ANNE WALTERS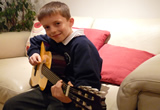 My son Ben aged 8 was very keen to learn the guitar. After just 7 lessons with Dale he has learnt many chords and two songs and I am thrilled with his progress. Dale also has taken into account my sons personal choice of the music and has tailored his tuition to accommodate this.

Kerry Hall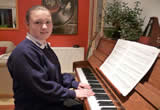 My daughter Georgia has became interested in the piano after my Son started lessons on guitar with Dale, I am delighted to see both keen to attend their lessons and enjoying hearing the results at home - long may this continue!!

Kerry Hall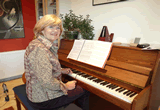 "I feel so lucky to have found a music teacher like Dale. Now here I am in my 60's and my playings improving all the time. Dale is such a friendly, relaxed and understanding teacher he never makes me feel stressed and each music lesson is really enjoyable fun."

JOY REEVES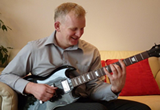 My name is Carl and I've been having guitar lessons with Dale for two years now and have really enjoyed the lessons. My guitar skills have come on lots since being with Dale, as we've covered many different styles.

CARL PROSSER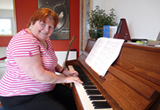 Dale is a very talented man and makes you feel relaxed and at ease. It doesn't matter what age you are, I would recommend Dale as he's a very good teacher. I didn't think when my daughter started guitar lessons nine years ago I would end up playing piano, but I have and its great!

CECILIA DUDLEY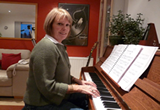 I received very formal piano lessons as a child, which I really didn't like. Dale teaching me fifty years later has been a much more enjoyable experience and I have learned so much more, I really feel I am progressing.

SANDRA SWEENY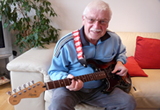 I've been playing guitar for a number of years and my playing was getting a little stale, so I booked some refresher lessons with Dale and was really impressed. . Dale has rekindled my enthusiasm for the guitar and would recommend him to anyone.

PETE MORGAN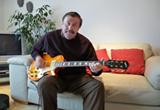 My name is Bob Woolley I've been having guitar lessons with Dale for two years now. I always enjoy the lessons. There's not too much on theory so we always get straight into playing which is what I like.

BOB WOOLlEY
Discounts available on lessons with two children from the same family.
Free piano or guitar lesson when you book your first four lessons
To book your lessons ring this number now!

Mansfield Music Tel Mobile: 07929 312737